Negative Lift-Off Resists
Negative Resists - Lift-off Applications

High Temperature Resists
Resist
NR77-1000PY
NR77-1500PY
NR77-3000PY
NR77-6000PY

Thickness
0.7µm - 2.1µm
1.1µm - 3.1µm
2.1µm - 6.3µm
5.0µm - 12.2µm

Temperature resistance = 180°C.
Degree of undercut is easily controlled by exposure dose for NR-PY type negative resists. At processing temperatures < 120°C, NR1 and NR7 series resists are strippable at 25°C.

Enhanced Adhesion
Resist
NR9-1000PY
NR9-1500PY
NR9-3000PY
NR9-6000PY
NR9-8000

Thickness
0.7µm - 2.1µm
1.1µm - 3.1µm
2.1µm - 6.3µm
5.0µm - 12.2µm
6.0µm - 25.0µm

Temperature resistance = 100°C.
NR9 series resists offer enhanced adhesion and are easily strippable at 25°C.
Applications

Facilitation of single-layer lift-off process to pattern metals and dielectrics without RIE
Permanent components of devices (i.e. spacers, etc.)

Properties

Formation of resist undercut during resist development
Thickness range: 0.7 - 25.0 µm
Easy adjustment of the degree of resist undercut as a function of exposure energy
Sensitivity to wavelengths shorter than 380nm

Impact on productivity

Elimination of dry etching process in patterning metals and dielectrics
Elimination of the need for bilayer resists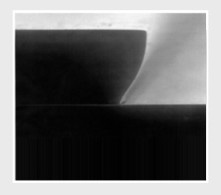 Futurrex NR1-3000PY
Liftoff profile for Negative Resist
NR1-3000PY.
Photoresist Thickness = 3µm.